Param Pujya Gurumaa, Shree Sadgunaben C. U. Shah
Smt Sadgunaben C U Shah was fondly and reverently called Guruma. She used to head the institution Shree Raj Saubhag Satsang Mandal along with Bhaishree. Her calm and reticent approach earned her respect from everyone who met her.
One who takes birth will surely die, the one who rises surely sets but what makes a difference is the way in which one lives.
In the midst of mortality she breathed immortality, and even in interminable worldly misery and dualism her inner soul was never perturbed. Her warmth, serenity and happiness would envelope those around her.
Under her guidance innumerable disciples strove hard in their pursuit of self realisation and to break the incessant bondage of birth and death.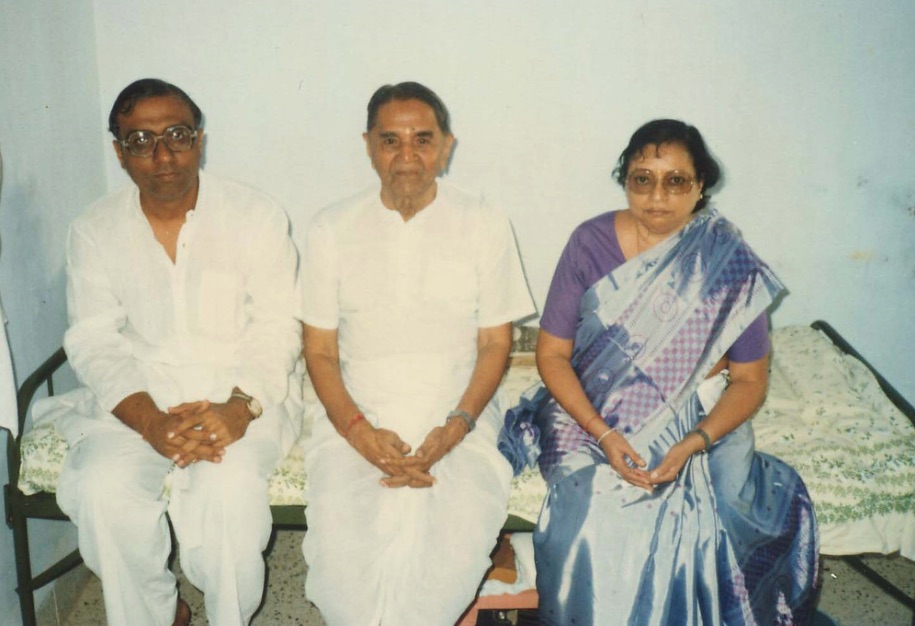 Early Life
Pujya Guruma was born in a Jain family on 25 November 1928 in a village called Kerwada, in the Bharuch district of Gujarat.
Her father Mr. Amrutlal and mother Mahalakshmiben brought her up imbibing strong family and religious beliefs and ethics. Her mother had always wanted all her children to have a sound education. Guruma trained as a Gynaecologist in Ireland.
Later, at the age of 30 years, she married Mr. C. U. Shah who always supported her in varied humanitarian and spiritual activities.
Her worldly life was spent dutifully as C.U. Shah's morale booster and support as he conducted his vast charitable activities; she balanced this perfectly with her inner striving, spending every moment on self-introspection and the upliftment of her own soul.
Journey towards Self-Realisation
Guruma frequently visited a place in Mumbai called Sagar Vihar where Shrimad Rajchandraji's works were read and discussed. There she became acquainted with Niranjanaben and Vajubhai Shah. After some days, when Niranjanaben didn't attend the reading, she casually asked the reason for it. That was when Niranjanaben told Gurumaa about Param Pujya Bapuji (Ladakchand Manekchand Vora).
Guruma was deeply moved by Bapuji's sermons. She took the refuge of Bapuji and became his disciple on 8th December 1977. She knew that in order to reach the summit of the mountain it was necessary to make an courageous effort and not waste precious time. Under her spiritual master she began her life all over again, living exactly according to the commands he gave. Her unconditional faith, dedication, and continuous efforts to make the most of the guidance of Bapuji made her not only a perfect disciple but also elevated her to great spiritual heights.
Along with Mr. C. U. Shah, Guruma's personal life included her daughter Minalben whom she fondly used to address as "Munni". She wanted that Minal should achieve the goal of self-realisation before she entered into a marriage. Today, Minalben has not only achieved self realisation but has also escalated to great spiritual heights. In 1993, Bapuji appointed Guruma and Bhaishree as his spiritual successors and since then numerous disciples have been motivated to achieve self-realisation and break the manacles of birth and death.
Very few people are capable of freeing themselves from the dualism of life. Guruma had not only broken these shackles but also subdued her passions therefore achieving the pinnacle of spirituality. In absolute calmness and peace, she left for her heavenly abode on 13th March 2004 in Mumbai at the age of 75 years.
Her death has not been the end of her spiritual journey but the beginning. The spiritual journey embarked upon in this lifetime continues till she achieves moksha.
She opened the shutters and let the sunshine glitter into our eyes, She walked us into the daylight and allowed us to get a new look at the world; we were on a new road.
She smiled at us and held our hand and we began to walk, we were no longer crawling,
We were breathing fresh new air, She showed us warmth, understanding, tenderness, togetherness and an understanding relationship; we learned to love the way we never knew.